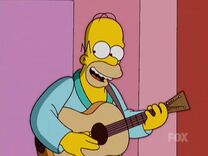 You Make Me Laugh is a song that Homer writes, sings and plays on the guitar as a dedication to his new high-definition television set (and to a lesser extent, Marge) in the episode Homer Simpson, This Is Your Wife. The music was written by Alf Clausen and Ricky Gervais (who wrote and guest-starred in the episode) and the lyrics by Gervais. It is the thirty-fourth track on the album The Simpsons: Testify.
Lyrics
Homer:
You make me laugh,
You make me cry.
Without you,
I'd just want to die.
For the rest of my life,
You'll be a fixture,
Now, let me enjoy
Your picture-in-picture!
And, Marge, you're pretty great, too.
Marge:
Yeah, whatever.