| | |
| --- | --- |
| | It has been suggested that this article be split into multiple articles (with a disambiguation page in case of confusion). (Discuss) |
Yao Ming is a basketball player for the Houston Rockets who guest starred in The Simpsons. He was one of the many sports stars in Homer and Ned's Hail Mary Pass and also made non-speaking cameos in Homerazzi and Love Is a Many Strangled Thing.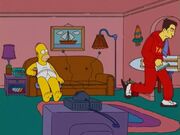 External links
Ad blocker interference detected!
Wikia is a free-to-use site that makes money from advertising. We have a modified experience for viewers using ad blockers

Wikia is not accessible if you've made further modifications. Remove the custom ad blocker rule(s) and the page will load as expected.