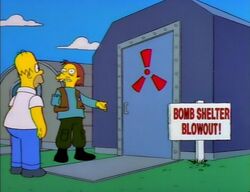 The Withstandinator is a nuclear blast shelter which was shown to Homer by Herman Hermann, in The HΩmega Man (first of three stories which make up S09E04 Treehouse Of Horror VIII).
History
Herman claims it can withstand a six megaton atomic blast - no more, no less.
Ad blocker interference detected!
Wikia is a free-to-use site that makes money from advertising. We have a modified experience for viewers using ad blockers

Wikia is not accessible if you've made further modifications. Remove the custom ad blocker rule(s) and the page will load as expected.