White Weasel (called that despite being yellow) is one of two cronies of Nelson, along with the Black Weasel. They are the youngest of the bullies at Springfield Elementary School. They are almost identical looking except their skin colors are different. They only occasionally hang out with Nelson after he was defeated by Bart. While only continuing to serve Nelson on very rare instances, the Weasels still appear frequently throughout the series in scenes involving the other bullies and primarily in scenes involving the other children of Springfield. The White Weasel wears a red T-shirt, tan shorts, and red shoes.
He is an online friend of Taffy's. Considering his reputation as a school bully, it is unknown as to how he managed to come to this status.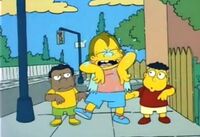 Gallery
Episode Appearances
Ad blocker interference detected!
Wikia is a free-to-use site that makes money from advertising. We have a modified experience for viewers using ad blockers

Wikia is not accessible if you've made further modifications. Remove the custom ad blocker rule(s) and the page will load as expected.