When Bad Things Happen To Cute Children
Talk

0
Share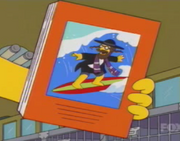 "When Bad Things Happen To Cute Children" is a book bought by Marge. The book says that a new pet will help get rid of Lisa's remorse for her old pet, Snowball II, who had just died after being hit by Dr. Hibbert's Mercedes. According to Marge, the book is written by a rabbi who surfs, since the back of the book is a picture of a surfing rabbi.
Appearances
Ad blocker interference detected!
Wikia is a free-to-use site that makes money from advertising. We have a modified experience for viewers using ad blockers

Wikia is not accessible if you've made further modifications. Remove the custom ad blocker rule(s) and the page will load as expected.