Wheel of Fortune is an American television game show created by Merv Griffin. It has three contestants (occasionally three teams of two contestants), one red, one yellow, and one blue, all three of the primary colors.
History
Wheel of Fortune was originally broadcast on NBC on Monday, January 6, 1975 at 10:30am EST/9:30am CT, replacing Jeopardy's time slot, and ended on June 30, 1989. Then it was broadcast on CBS from July 17, 1989 to January 11, 1991. Then it moved back to NBC, where it was broadcast from January 14, 1991 to September 20, 1991, then cancelled permanently. However, a nighttime version premiered on Monday, 7:30pm EST/6:30pm CT, September 19, 1983 in syndication, mostly on ABC affiliates. It is still shown to this day weeknights at 7:30pm EST/6:30pm CT on ABC, right after Jeopardy at 7:00pm.
Appearances of Wheel of Fortune on The Simpsons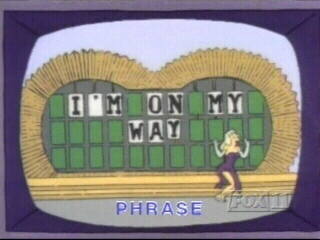 In the episode Brother from the Same Planet, Homer is watching an episode of Wheel of Fortune on TV. The category is "Phrase" and the solution to the puzzle is "I'm On My Way." Marge asks Homer to pick up Bart from his soccer game and mistakes his puzzle solving for a response.
In the episode Pranksta Rap, Santa's Little Helper accidentally swallows the TV remote control and the channels change every time he barks. On one of the channels, the logo of the Spanish title (Rueda de Fortuna) appears.
A Simpsons edition of the board game adaptation has been released in 2004.
Appearances

Episode – "Brother from the Same Planet"

Episode – "Pranksta Rap"
Trivia
Wheel of Fortune has been on all of the three big networks in reverse alphabetical order: First NBC, then CBS, now ABC.
The show is always 1 season ahead of Jeopardy! and 6 seasons ahead of The Simpsons.
Jeopardy and Wheel of Fortune, which are both created by Merv Griffin, are both the first game shows to be broadcast in HD (which was in 2006.)
External links
| | | |
| --- | --- | --- |
| | D'oh! | This article is a stub. You can help the wiki by embiggening it. |