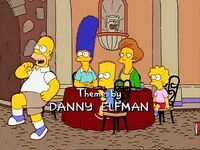 What Do I Think of the Pie is a brief, quick musical number sung by Homer in the episode Special Edna. The music was written by Alf Clausen and the lyrics by Dennis Snee. It is the twelfth track on the album The Simpsons: Testify.
Lyrics
Homer:
Boy, those pies looks good.
Waitress:
Open your gullet, you human blob.
(Homer eats the pie)
Lisa:
Well, what do you think?
Homer:
What do I think of the pie?
What do I think of the pie?
Goodness, gracious,
It's delicious,
That's what I think of the pie,
Because—
(marches out the door)
Should we follow him?
I'm on vacation.
Ad blocker interference detected!
Wikia is a free-to-use site that makes money from advertising. We have a modified experience for viewers using ad blockers

Wikia is not accessible if you've made further modifications. Remove the custom ad blocker rule(s) and the page will load as expected.