Weasel Island is an island somewhere off the coast of Springfield. It is notable for being one of America's Ten Roundest Islands.
The island is home to numerous weasels, many which live in a "dark Weasel cave, a historic Civil War prison/sideburn museum, and a run-down, still operational amusement park.
Tourists can only reach the island via the Island Queen ferry.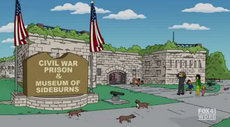 Appearances
Ad blocker interference detected!
Wikia is a free-to-use site that makes money from advertising. We have a modified experience for viewers using ad blockers

Wikia is not accessible if you've made further modifications. Remove the custom ad blocker rule(s) and the page will load as expected.