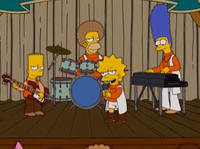 We're Heading for Disaster
is a song played by Homer (drums), Bart (guitar) and Marge (keyboard) and sung by Lisa in "
The Wettest Stories Ever Told
" segment "Watership D'ohn". Ironically, the song was played moments before the S.S. Neptune was struck by a giant wave and flipped over, killing almost everyone on board.
Lyrics
I think we're heading for disaster
and most of you will not be saved.
unless the captain is attentive
we'll all be crushed by a huge wave!
Ad blocker interference detected!
Wikia is a free-to-use site that makes money from advertising. We have a modified experience for viewers using ad blockers

Wikia is not accessible if you've made further modifications. Remove the custom ad blocker rule(s) and the page will load as expected.