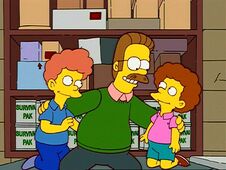 We'll Be Safe is a song sung by Ned Flanders to calm Rod and Todd down while they were hiding in their panic room, making them even more scared.
Lyrics
We'll be safe inside our fortress when they come.
We'll be safe from creeps and killers when they come.
Unless they have a blow-torch
Or a poison gas injector,
Then I don't know what will happen when they come!
Behind the Laughter
Appearances
Ad blocker interference detected!
Wikia is a free-to-use site that makes money from advertising. We have a modified experience for viewers using ad blockers

Wikia is not accessible if you've made further modifications. Remove the custom ad blocker rule(s) and the page will load as expected.