| | | |
| --- | --- | --- |
| | Waverly Hills 9-0-2-1-D'oh | |
Cultural references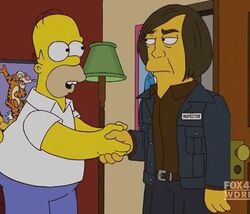 Trivia
Ralph's party is the third party Bart's been to (first Martin's in "Grade School Confidential" and second Nelson's in The Haw-Hawed Couple).
The person rolling Lisa into Alaska Nebraska's dressing room is the Squeaky-Voiced Teen.
In the episode Homer has a Wii and an Xbox.
One of the pieces of art on the walls of Homer and Marge's "first apartment" looks similar to the canvas Composition with Red, Yellow, and Blue by Piet Mondrian.
During the scene where Homer and Marge enter the party a poster for the Beatles album Abbey Road is on the wall.
The scene where Ms.Hoover is abusing her tenure is used in the movie Waiting For Superman.
Alaska Nebraska mentions that she is currently dating "the starting point guard of the Los Angeles Clippers." She refers to Baron Davis, who was playing for the Clippers at the time.
Goofs
Ralph goes into the locker after Lisa comments on his smarts, but the locker has the lock locked, although it could have been set.
When Ralph says "Class, in what year was 1+1?" his seat is empty. Right after the scene there's a kid in his chair.
Joe Mantegna is credited as playing Fat Tony, yet Fat Tony didn't have any lines.