Watered with Love is a song sung by Krusty and Princess Penelope (Anne Hathaway) in the episode "Once Upon a Time in Springfield". The music was written by Alf Clausen and the lyrics by Stephanie Gillis.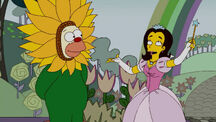 Lyrics
I was a parched widdle seedling...
Until you were watered with love.
Krusty and Princess Penelope:
Love, love, love, love,
LOVE!!!!
Krusty:
Stop da music!
Bart:
Woah, thank God.
Krusty:
I'm sick and tired of this woman—
Bart:
Yes!
Krusty:
—not being married to me!
Bart:
Huh?
Krusty:
Penelope, will you be my Princess Bride?
Penelope:
Oh, Krusty! Yes! YES!!!
AAAAHHHHH!!!
Ad blocker interference detected!
Wikia is a free-to-use site that makes money from advertising. We have a modified experience for viewers using ad blockers

Wikia is not accessible if you've made further modifications. Remove the custom ad blocker rule(s) and the page will load as expected.