Wal-E-Weasel
is the mascot for "
Wall-E-Weasel
's", a parody of "Chuck E. Cheese's". Wal-E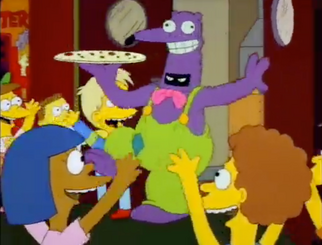 -Weasel is first featured in the episde
Radio Bart
, in
Season 3
. Wal-E-Weasel is actually an angry man behind a costume, as seen when he quotes, "Why don't you go bug your parents?", as he tries to get rid of
B
art
's birthday guests. You can also sense his aggression by seeing his eyes sqinted in anger just below the head of the costume.
Appearances
Wal-E-Weasel's first appearance in The Simpsons is in Season 3 's "Radio Bart".
Ad blocker interference detected!
Wikia is a free-to-use site that makes money from advertising. We have a modified experience for viewers using ad blockers

Wikia is not accessible if you've made further modifications. Remove the custom ad blocker rule(s) and the page will load as expected.