The WWII Jeep is a car that is driven by Abraham Simpson and is used in the last mission of the game "The Simpsons: Hit and Run" and can be driven in other missions after completing a bonus mission in Level 2. It is the third fastest car in the game in its variant used in the final mission. It strongly resembles a Jeep Wrangler.
Appearances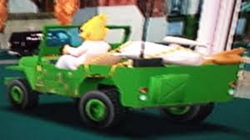 | | | |
| --- | --- | --- |
| | D'oh! | This article is a stub. You can help the wiki by embiggening it. |
Ad blocker interference detected!
Wikia is a free-to-use site that makes money from advertising. We have a modified experience for viewers using ad blockers

Wikia is not accessible if you've made further modifications. Remove the custom ad blocker rule(s) and the page will load as expected.