Ad blocker interference detected!
Wikia is a free-to-use site that makes money from advertising. We have a modified experience for viewers using ad blockers

Wikia is not accessible if you've made further modifications. Remove the custom ad blocker rule(s) and the page will load as expected.

The WWII Jeep is a car that is driven by Abraham Simpson and is used in the last mission of the game "The Simpsons: Hit and Run" and can be driven in other missions after completing a bonus mission in Level 2. It is the third fastest car in the game in its variant used in the final mission. It strongly resembles a Jeep Wrangler.
Appearances
Edit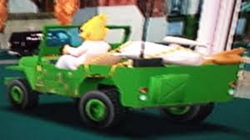 | | | |
| --- | --- | --- |
| | D'oh! | This article is a stub. You can help the wiki by embiggening it. |