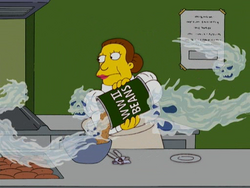 The WWII Beans were a tin of beans that presumably were meant to be eaten during World War II. Lunchlady Doris uses them in the food at Springfield Elementary School. Spirits came out of the pot and Doris told them to get into the food.
Appearances
Ad blocker interference detected!
Wikia is a free-to-use site that makes money from advertising. We have a modified experience for viewers using ad blockers

Wikia is not accessible if you've made further modifications. Remove the custom ad blocker rule(s) and the page will load as expected.