The
Vietnam War
was a Cold War-era military conflict that occurred in
Vietnam
,
Laos
, and
Cambodia
from 1 November 1955 to the fall of Saigon on 30 April 1975.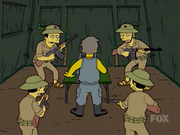 Background
Edit
See Vietnam War

Seymour Skinner is a veteran of this war.
Casulties
Edit
Johnny: KIA
Seymour Skinner: POW
Unnamed Bartender: WIA (claims he got a metal [butt] in Vietnam)
Skinner's entire company: KIA
Appearances
Edit
Skinner has several Posttraumatic Stress Disorder-induced flashbacks of the Vietnam war.