Vancouver is a coastal seaport city on the mainland of British Columbia, Canada. It was also the location of the 2010 Winter Olympics.
History
The Simpson-Skinner team took part in the curling event in Vancouver. The Medicine Woman is seen here and talks to Homer. Being the Winter Olympics location, it is a popular tourist place at this time of year and attracts many traders selling Olympic pins and they sell them the pins after getting them hooked on collecting them.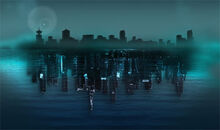 Appearances
Ad blocker interference detected!
Wikia is a free-to-use site that makes money from advertising. We have a modified experience for viewers using ad blockers

Wikia is not accessible if you've made further modifications. Remove the custom ad blocker rule(s) and the page will load as expected.