Comments

0
Harry Shearer Willing to take pay cut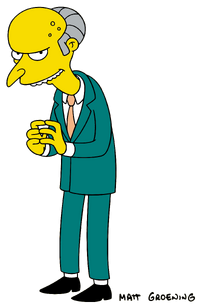 Probably the biggest Simpsons news of this season, has been the ongoing contract negotiations which could possibly affect the next season of the show. Fox has claimed that they are paying the actors far too much to make a profit on the show. Shearer, who does the voice of Mr. Burns as well as other characters, says if pay cuts is what it takes to keep the show on the air, he is willing to take one. He told them - "I say, fine -- if pay cuts are what it will take to keep the show on the air, then cut my pay. In fact, to make it as easy as possible for Fox to keep new episodes of The Simpsons coming, I'm willing to let them cut my salary not just 45 percent but more than 70 percent -- down to half of what they said they would be willing to pay us. All I would ask in return is that I be allowed a small share of the eventual profits."
If the show continues, it will be for a 24th season. Let's all hope that the show can continue on.
Source
Ad blocker interference detected!
Wikia is a free-to-use site that makes money from advertising. We have a modified experience for viewers using ad blockers

Wikia is not accessible if you've made further modifications. Remove the custom ad blocker rule(s) and the page will load as expected.