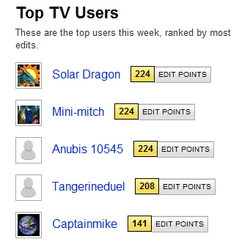 Look what I made it to! It surprised me. I am happy with this and it is a great achievement (good thing I have a spell checker, I can not spell achievement properly) for me to get to that. All because of the Simpsons wiki, and partly Doctor Who, as well. It was found here.
Just found out I have moved up to 4th this week! And now 3rd.

I have now peaked at second place. Whoah, I am doing a lot of editing.
---
Finally, First Place.