Season 24 starts in only a couple days. If you're going to have your computer with you while you watch, check out our Live Chat Party where you can talk with other fans about the episode. As for the season itself, let's take a look at what's in store and hear what you are most excited for.
In the premiere episode, Moonshine River, Bart will be visited by girlfriends from his past, including Mary Spuckler, Jenny, Nikki McKenna, Darcy, and Gina Vendetti. All of these girlfriends are voiced by a very famous set of actresses....
Who is your favorite guest star that played one of Bart's girlfriends?

The second episode of the season is already the most anticipated. That's right, Treehouse of Horror XXIII, and we already know what the three stories will be about. One will parody "Back to the Future", as Jon Lovitz returns as Artie Ziff in a story about the alternate turnout of Homer and Marge's marriage. Another will parody the scary movie "Paranormal Activity", while the final segment will address the Mayan prediction that the world is going to end in December, 2012.
Which parody/story are you most looking forward to in Treehouse of Horror XXIII?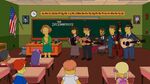 Those first two episodes should be pretty good, but there is also a lot of buzz for an episode called The Day the Earth Stood Cool, which features guest stars Fred Armisen and Carrie Brownstein (from the hipster-mocking show "Portlandia") as a cool couple who move next door to the Simpsons family. Homer becomes desperate to become cool like them, and the band The Decemberists (pictured at right) will somehow make an appearance. It seems like we are in for a season with some really good guest stars, as usual. Edward Norton will play a reverend, Steve Carrell will be Fat Tony's accountant, and Justin Bieber will play himself. For some people, that may be a blessing of Bieber fever. But most of us think he should have been used in the Treehouse of Horror episode.
Besides the actresses in the first poll, tell us....
Which Season 24 guest star(s) are you most looking forward to seeing?
If there are any episodes you're particularly looking forward to in the new season, tell us in the comments section below!