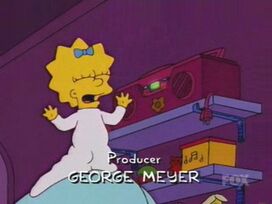 "I don't like The Simpsons, because people are killed there."
―Me when I was younger
When I was a small child, I saw some scenes from two the Simpsons episodes: Marge cut Homer's finger by mistake in Trilogy of Error and Homer killed Moe (because of Snake's hair on his head) in Treehouse of Horror IX. I was shocked and didn't understand how it is possible that there is a blood and killing people in the animated series. This time I really hate this series.
It all changed last year. In the spring 2011 I started to watch the Simpsons, just of interest. After one month, the Simpsons became my favourite animated series.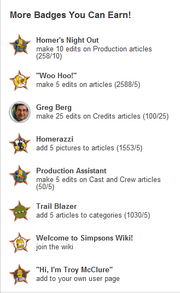 Origin of my name
Edit
"terry" - My favorite writers' names are Terry Deary and Terry Pratchett.
"12" - My favorite number.
"fins" - I like swimming.
"24" - 12x2=24
Seen Episodes
Edit
Favorite Characters
Edit
Well, this is hard. The Simpsons are so popular because almost every character in the series is funny. Here is my list.
The Czech Simpsons - "Simpsonovi"
Edit
At first, I am not from Czech Republic. However, there is no Slovak dubbing of the Simpsons, so I watch the Czech version. Slovak language is very similar to Czech. The Czech Simpsons are called "Simpsonovi" (and Slovak are "Simpsonovci")
Characters
Edit
Characters usually have the same name as in the original, but there are also some exemptions.
Goofs in Translating
Edit
Userboxes
Edit
| | |
| --- | --- |
|   |   This user's birthday is on February 11. |
| | |
| --- | --- |
| |   This user is a student. |
| | |
| --- | --- |
|   |   This user has seen every episode of the show |
| | |
| --- | --- |
| 19,533 | This user has made more than 19,533 edits to this wiki. |
| | |
| --- | --- |
| | This user has made over 100 edits to this wiki! |
| | |
| --- | --- |
| | This user has made over 500 edits to this wiki! |
| | |
| --- | --- |
| | This user has made over 1000 edits to this wiki! |
| | |
| --- | --- |
| | This user has made over 5000 edits to this wiki! |
| | |
| --- | --- |
| | This user has made over 10,000 edits to this wiki! |