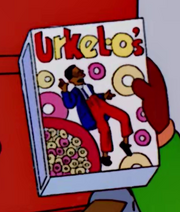 Urkel-O's is a cereal brand.
History
When the Simpsons family was in The 1895 Challenge, they visited the Kwik-E-Mart. Marge wanted to buy a packet with Urkel-O's, but Apu didn't allow her to, as the product was forbidden to them because they weren't allowed to buy anything made after 1985.[1]
Behind the Laughter
Urkel-O's is a real product.
Appearances
Citations
↑

Helter Shelter
Ad blocker interference detected!
Wikia is a free-to-use site that makes money from advertising. We have a modified experience for viewers using ad blockers

Wikia is not accessible if you've made further modifications. Remove the custom ad blocker rule(s) and the page will load as expected.