United Federation of Homers Through History
Talk

0
Share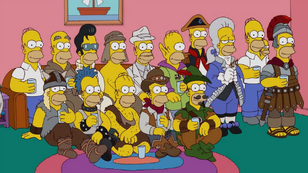 United Federation of Homers Through History is a federation of Homers through history.
History
When normal Homer knocked on Artie Ziff's door he showed him the federation. Five minutes later Artie and his son, Bartie Ziff, beat all of them up. Homer tells them to regroup for tomorrow and than Marge walks through the door and says that she married the wrong person. Later, all the Homers are seen on the couch that no one took out the trash. One Homer suggests that Egyptian slave Homer does it and they all laugh, although Marge doesn't.
Versions of Homer
Normal (Homer Simpson)
Teen Homer from 1974
Monk
Fat Elvis
Egyptian slave
Napoleon
Renaissance (Marge mistakes him for a caveman)
Two headed
Viking
Cowboy
Punk
Robin Hood
Spartan
Pope
Knight
Angel
Future (alien)
Businessman
Sailor(probabbly deceased)
Andre the Giant-esque Wrestler
Fop
Appearances
Ad blocker interference detected!
Wikia is a free-to-use site that makes money from advertising. We have a modified experience for viewers using ad blockers

Wikia is not accessible if you've made further modifications. Remove the custom ad blocker rule(s) and the page will load as expected.