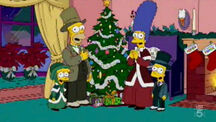 Twelve Days of Christmas is a popular Christmas carol. The Simpsons sing their own version of it as a couch gag in "Pranks and Greens". The parody lyrics were written by Jeff Westbrook.
Lyrics
The family: On the twelfth day of Christmas,
My true love gave to me...
Twelve Grandmas grumbling,
Eleven Todds belching, (Todds belch in unison)
Ten Rockies jumping,
Nine Katherines playing,
Eight Boes bambooing,
Seven Sonyas swimming,
Six Florences paying,
Professor Planes: Five golden Planes,
The family: Four perfect books,
Two special Alexes,
And a Manny in a Snugly.