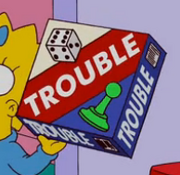 Trouble is a board game that the Simpson family own.
When Bart had a problem, he told about it to Maggie. She then used the game Trouble and Bart's photo to point to Marge that Bart was doing something naughty.
Behind the Laughter
Edit
Trouble is a real board game.
Appearances
Edit