Trilogy of Error
Talk

0
9,851 articles being
edited here
"Trilogy of Error" is the eighteenth episode of Season 12. It aired on April 29, 2001. The episode was written by Matt Selman and directed by Mike B. Anderson. Frankie Muniz and Joe Mantegna guest star.
Homer's thumb is cut off following breakfast and the episode follows three different paths. Homer's day; as he and Marge race to get his thumb reattached. Lisa's day; as she misses the bus and tries to get to school so that she can win the science fair. Bart's day; as he and Milhouse make use of a stash of fireworks that Fat Tony has illegally smuggled into the country. In the end their respective paths come together.
Every part begins with the garbage truck coming by. It picks up Ned's mailbox (making him say "Son of a diddily"), and then a newspaper saying that Spring has arrived is tossed.
Homer's Day
Edit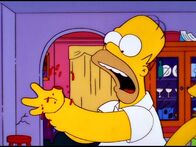 Homer is getting ready for work and after coming out of the shower he tries to eat breakfast however Marge bought a really hard to eat breakfast from Europe and then Bart leaves when Milhouse rings the doorbell. Lisa tries to spare her mother's feelings by winking to Homer and asking if he wants to see her school project, Homer not understanding what Lisa is doing says no but he'd rather do that than eat the crappy breakfast, leaving Marge in the kitchen hurt. Lisa shows Homer her science project Linguo a grammar fixing robot and when Homer says "Me love beer", Linguo corrects it by saying "I love beer" and Homer gives Linguo a bottle of beer and makes him malfunction. Homer then sees a tray of brownies and Homer wants one but Marge does not allow it and then Homer grabs one when Marge is cutting and then the knife cuts Homer's thumb off. Marge tries to call 911, however Chief Wiggum, who picks up the line misinterprets the information as a deliberate attack and states that she will be arrested, forcing Marge to use a fake address of 123 Fake Street. Marge drives Homer to a doctor, but crashes into Rainier Wolfcastle's car forcing them to carjack him. After learning from Dr. Hibbert that Homer's finger insurance does not cover his thumb, Marge drives Homer to Dr. Nick's. When his thumb is decaying, Homer and Marge make a pitstop at Moe's Tavern and Moe gives Homer a new jar to put his thumb in to preserve it. After wasting time in the tavern Homer comes out and finds that Marge and the car are gone and Homer catches a ride with Cletus to go to Dr. Nick's. However, it is on fire by an item that was supposed to be inflammable and Cletus's truck is stolen, forcing Homer to walk to Shelbyville and on the way he sees Linguo's head in the trash following an explosion.
Lisa's Day
Edit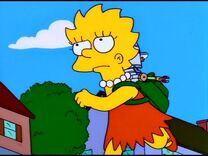 After Homer gives Linguo beer and makes him malfunction Lisa goes to her room and fixes Linguo. But when Lisa has to leave, her bike is missing, the bus has left (while Martin is on it with his science project ready), and Homer and Marge have left for the hospital. Lisa runs to school and sees Krusty's limo after it almost hits her. Krusty has his chauffeur Mr. Teeny take Lisa to school, passing Chief Wiggum along the way who asks for directions to 123 Fake Street. However, it is the wrong school and Lisa is actually in West Springfield Elementary School and there she meets a student named Thelonius (named after the scientist and has no friends) who she falls in love with and spins around with for hours. Lisa then runs to Moe's Tavern to find Homer, but Homer is not there. She notices that Chief Wiggum is there who is working on a sting operation to catch some fireworks smugglers and is listening to the conversation with some people he sent undercover and the criminals. When Lisa recognizes one of the criminals as Fat Tony, Wiggum speaks into the microphone which exposes his undercover people. Just as Lisa leaves Moe's, Homer and Marge arrive and Lisa sees Marge outside and Lisa hops in her car which Marge stole from Rainier Wolfcastle and leave when Marge hears Homer talking to Moe drunk and knows she has plenty of time to drive Lisa to school. However, the car instructions are in Italian and they run out of fuel. Marge and Lisa then take a ride in Cletus's truck by hiding in the back and after arriving at Dr. Nick's, Marge steals the truck during the time that Homer and Cletus observe that the hospital is on fire. With only a few minutes of school left and on the way they nearly run over Bart and Milhouse.
Bart's Day
Edit
Milhouse comes over and Bart tags along with him. They steal Lisa's bike and go to a cave where Milhouse has found firecrackers and then the boys enjoy blowing things up including Dr. Nick's (where the firework hit's the inflammable item) office until they hear sirens and hide in an abandoned building called 123 Fake Street (the one Marge used to prevent being arrested) and are caught by Chief Wiggum. The boys are then put into a sting operation to find the real firework smugglers who end up being Fat Tony's gang. Bart and Milhouse are exposed when Wiggum speaks into their receiver and are forced to escape. They come out through a sewer and then come up through a Manhole cover and are nearly ran over by Marge and Lisa. The boys, Marge, and Lisa are then confronted by Fat Tony in an alley, but Lisa has to sacrifice Linguo by having him fix the terrible grammar of Legs and Louie that overloads him and causes Linguo's body to produce sparks and then the body explodes due to the sparks igniting Fat Tony's fireworks which also takes down the mobsters. Linguo's head then falls into the trash and Homer finds it. Marge finds that both Bart and Milhouse were hiding in a trash can.
Legs is able to fix Homer's thumb and it becomes Lisa's science project which is awarded 1st place by Ms. Hoover and then the whole episode cast comes and laughs except for Mr. Teeny who murmurs "this plot made no sense" an example of "breaking the fourth wall".