Too Ugly to Hug is a song sung by Moe in the "There's No Business Like Moe Business" segment of "Treehouse of Horror XX". The music was written by Alf Clausen and the lyrics by Daniel Chun.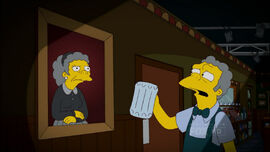 Lyrics
Moe:
Oh, why can't no girl
Love a guy with this mug
Whose mother declared,
"You're too ugly to hug!"?
Ad blocker interference detected!
Wikia is a free-to-use site that makes money from advertising. We have a modified experience for viewers using ad blockers

Wikia is not accessible if you've made further modifications. Remove the custom ad blocker rule(s) and the page will load as expected.