Tonight is a song sung by Homer, Lenny, Carl, Moe, Barney and Lisa on the episode "Lisa with an "S"". The song talks about the guys' preparation for the poker night and Lisa's excitement to enter the band camp. It is a parody of the 1956 song "Tonight" by Ferrante & Teicher.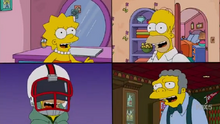 Lyrics
Homer: Tonight, Tonight
I'll win at cards tonight!
My flushes will be straight
tonight!
Lenny: Lenny's gonna dominate tonight!
Carl: Carl's gonna be a little late tonight!
Moe: Tonight, Tonight
I'll cheat them all tonight!
When they're drunk they don't play
cards quite right!
Barney: Tonight, Tonight
I won't get drunk tonight!
Without a beer my head will clear
tonight!
Moe: It's fun to trick a rummy
to put liquor in his tummy!
Barney: Your friendship's a delight!
Moe: And you may loose your sight
Barney, Moe, Duffman's ghosts: Tonight!
Lisa: Tonight, Tonight
Band camp calls tonight!
My demo goes online
tonight!
Lisa, Homer, Lenny, Moe: Tonight, Tonight
My dreams come true tonight!
Lisa: (simultaneously) Deposit's due tonight
Homer: (simultaneously) I'll take the pot tonight
Lenny: (simultaneously) I'll eat fondue tonight
Moe: (simultaneously) I'll spike your brew tonight
Lisa, Homer. Lenny, Moe: Tonight!!
Homer: Moe, what the hell is that?
Moe: Sorry, I missed rehearsal. Damn it!
Ad blocker interference detected!
Wikia is a free-to-use site that makes money from advertising. We have a modified experience for viewers using ad blockers

Wikia is not accessible if you've made further modifications. Remove the custom ad blocker rule(s) and the page will load as expected.