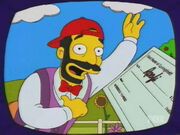 "Tickets, Tickets"
is a song performed by
Roofi
in the episode "
Marge vs. Singles, Seniors, Childless Couples and Teens and Gays
." When Roofi promoted his upcoming concert during his show, he sang the song to encourage fans to buy tickets.
Lyrics
Tickets, tickets, buy them now
Roofi here will show you how.
Visa, AmEx, or MC,
Or make out a check to me!
Behind the Laughter
Appearances