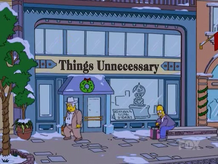 Things Unnecessary is a store located at the Springfield Heights Promenade. It has a lot of merchandise that is unnecessary like the name suggests. The salesmen there are always trying to sell overpriced and outrageous objects to people who can't afford them. Homer bought an Astrolabe from there once.
Appearances
Gallery
Ad blocker interference detected!
Wikia is a free-to-use site that makes money from advertising. We have a modified experience for viewers using ad blockers

Wikia is not accessible if you've made further modifications. Remove the custom ad blocker rule(s) and the page will load as expected.