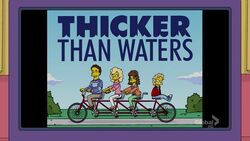 Thicker Than Waters is a sitcom that aired during the 1980's. In Homer the Father, Homer starts watching and acting like the show's father, likely indicating that Homer is a fan of this show. The show's theme is Cherish That Family Smile.
Behind The Laughter
Thicker Than Waters is largely based on the 80's sitcom Growing Pains.
Appearances
Ad blocker interference detected!
Wikia is a free-to-use site that makes money from advertising. We have a modified experience for viewers using ad blockers

Wikia is not accessible if you've made further modifications. Remove the custom ad blocker rule(s) and the page will load as expected.