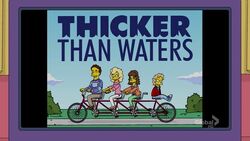 Thicker Than Waters is a sitcom that aired during the 1980s.
History
Homer starts watching and acting like the show's father, likely indicating that Homer is a fan of this show. The show's theme is Cherish That Family Smile. It was also one of the shows on the Butt-Whisperer 9000, with Homer refusing to see the show as he has already "seen it."
Behind the Laughter
Thicker Than Waters is largely based on the 80's sitcom Growing Pains.
Appearances