| | | |
| --- | --- | --- |
| | There's Something About Marrying | |

"There's Something About Marrying" is the tenth episode of the sixteenth season of The Simpsons and the 345th in all
Synopsis
Gay and lesbian couples are allowed to get married in Springfield and Homer takes advantage of it with a wedding business, marrying several same-sex couples, including Patty, who comes out of the closet as a lesbian.
Full Story
Looking for someone new to prank with, Bart and Milhouse find a naive-looking man named Howell Huser, who has been roaming the United States. They torment him so much that he breaks his 47-year long smiling streak. Unfortunately, Huser turns out to be a professional tourist who works for a TV station rating towns for tourism. On his show, he rants about just how terrible Springfield is. Within a month, the Springfield tourism business is in a state of collapse. As a solution, Lisa suggests that they should legalize same-sex marriage.
Soon, hundreds of gay and lesbian couples come to Springfield. However, Rev. Lovejoy still holds the view that marriage is only between a man and a woman and refuses to join any same-sex couple. Homer, when he overhears that ministers get paid $200 per couple, plans to become a minister himself by going online and registering himself. Shortly afterwards, he marries every gay couple in town. Homer, still money hungry, puts up a sign saying "Will marry anyone to anything", meaning that he literally will marry anyone to anything or anyone they wish (even inanimate objects like the Sea Captain marrying his mermaid ship head). Later, Patty comes to the Simpson house and tells Marge that she is a lesbian herself (eventually came out of the closet) and is in love with a pro-golfer named Veronica. Marge is extremely uncomfortable with this new fact, even though she has been supportive of the gay marriage act and the evidence was always there.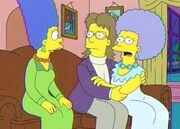 On the day of Patty's wedding, Marge makes a surprising discovery: Veronica is actually a man who is disguised to be on the women's tour. At the ceremony, Marge states about "Veronica's" secret and when he asks Patty to still marry him, she declines. Patty thanks Marge for accepting her. She and Selma then go to leave a bag at the airport unattended, as a way to meet security personnel.
Promo Cards
Citations