| | | |
| --- | --- | --- |
| | The Ten-Per-Cent Solution | |
Cultural references
The title is most likely a reference to the Sherlock Holmes novel and also the film The Seven-Per-Cent Solution.
The couch gag is a reference to The Sword in the Stone, where only the rightful owner of the sword can pull the sword out of the stone (couch).
The billboard is advertising a play with the Duffman as the author Mark Twain .
Lisa , Bart and Maggie watch a cartoon with Adolf Hitler in it. Maggie then mimics the Nazi salute and Lisa puts down Maggie's hand nervously.
"Itchy and Scratchy in the Social Pet-work" is a parody of the film The Social Network.
"Itchy and Scratchy in Black & Blue Swan" is a parody of the film Black Swan. It is shown right after Krusty complains about the movie parodies on his show being out of date due to the lengthy animation process (which has become a common occurrence on The Simpsons).
The Museum of TV and Television contains displays for several TV shows that have been shown in earlier Simpsons episodes, including:
Memorabilia for sale at the Museum of TV and Television includes a figurine of the bill from the Schoolhouse Rock parody on how a bill becomes a law .
When Homer's gun goes off in the television museum it shoots the JR from Dallas standee.
Jeffery Albertson is pushing the Batmobile in the Museum of TV and Television and gets burned when fire comes out of the exhaust pipe.
The van from the show The A Team , a miniature replica of the STAR Trek Enterprise , skeletons of the Three Stooges , a Superman and Lassie statue and statues of all the Beverly Hillbillies are all shown in the Museum of TV and Television.
Marge says Fred Flintstone , Archie Bunker and the King of Queens all mimicked the show the Honeymooners.
A picture is shown on agent Annie Dubinsky's wall of Joe Camel as her client in her office.
The Clown Plaza Hotel is a parody of the Crowne Plaza Hotel.

​Clowns inside the Clown Plaza Hotel

Bozo the Clown
Ronald McDonald

HBOWTIME is a mix between the premium network channels, HBO and Showtime.
The network filming Krusty in the show Sex over Sixty is TKN , a parody of the network TLC TV network.
Goofs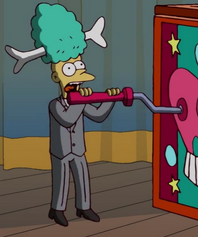 Mel has a huge bone in one scene. 
Princess Kashmir is brown. It might not have been her, just a similar looking character.
In Springfield Up it is established that the Crazy Cat Lady is around Homer and Marge's age, however she appears here as a young woman in the mid-'60s scene where Krusty performs at the Village Id.