The Simpsons Horror Edition (Top Trumps)
Talk

0
Share
Ad blocker interference detected!
Wikia is a free-to-use site that makes money from advertising. We have a modified experience for viewers using ad blockers

Wikia is not accessible if you've made further modifications. Remove the custom ad blocker rule(s) and the page will load as expected.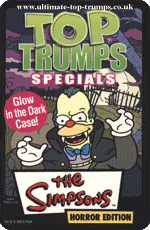 The Simpsons Horror Edition was the second Simpsons related Top Trumps pack released by Winning Moves. It featured 30 characters from the Treehouse of Horror Series.
There was also a Clobber Girl Super Top Trumps card, but strangely no Stretch Dude card.
Card List
Edit
Bart Simpson
Count Burns
Count Krusty
Dead Bart
Devil Ned
Fly Boy Bart
Giant Homer
Homer Simpson
Kang & Kodos
Nelson Muntz
Neuro Burns
Officer Lou The Fairy
Pirate Maggie
Sherri And Terri
Sideshow Bob
The Goblin
Trick Or Treat Milhouse
Witch Lisa
Witch Maggie
Witch Marge
Witch Patty
Witch Selma
Zombie Dolph
Zombie Homer
Zombie Jimbo
Zombie Kearney
Zombie Krabappel
Zombie Krusty
Zombie Ned
Zombie Skinner
External Links
Edit