The Simpsons Family Smile-Time Variety Hour
Talk

0
Share
The Simpsons Family Smile-Time Variety Hour is the third fictional spin-off of The Simpsons featured in "The Simpsons Spin-Off Showcase". It is a parody of campy variety shows, especially The Brady Bunch Hour, because just as Eve Plumb refused to recreate her role as Jan Brady, Lisa is replaced. The theme song and medley at the end was written collectively by Bert Berns, Alf Clausen, Joey Dee, Bob Feldman, Henry Glover, Jerry Goldstein, Richard Gottehrer, Ros, and Steve Tompkins. It appears as the twenty-sixth track on the album Go Simpsonic with The Simpsons.
Lyrics
Theme Song
In our final spin-off tonight, the Simpson family finally gets the chance to show off the full range of their talents. Unfortunately, one family member didn't want that chance and refused to participate. But thanks to some creative casting, you won't even notice. Show us what you got, TV!
Live from Radio City Music Room in downtown Springfield, it's The Simpsons Family Smile-Time Variety Hour! Featuring the Waylon Smithers Dancers and the Springfield Baggy Pants Players! And now, a family that doesn't know the meaning of the word "cancelled": The Simpsons!
The Simpsons:
Come along and bring the family!
Come along and join the fun!
Come along and join the family!
Join the fam'ly Simpson!
Roll call!
Remember me? My name is Marge,
The TV mom whose hair is large!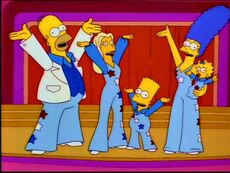 Bart:
Step back, Mom, it's Bart's turn now,
"Lisa":
I'm Lisa, peppy, blond and stunning,
Sophomore, prom queen five years running!
Gooooooooooo Lisa!
Bart:
Wait a minute! Whoa, whoa, (whistles) stop the music! Where's Dad?
(everyone murmurs)
"Lisa":
Here he is!
I'm hiding from th-th-th-the ghost!
Marge:
Ghost? What ghost?
Homer:
B-B-Before the show, you said we were having a special ghost tonight.
Marge:
I said we were having a special guest tonight: Mr. Tim Conway!
(applause)
Homer:
What's a Tim Conway?
Tim Conway:
Oh, about 120 pounds.
(laughter)
The Simpsons:
It's The Simpsons Family Smile-Time Variety Hour!
Candy Medley
Marge:
Inflation, trade defecit, horrible war atrocities. How are we supposed to do our big musical number with so many problems in the world?
Homer:
Well, I know one thing in this world that's still pure and good.
Marge:
Christian love?
Homer:
CANDY! Sweet sweet candy!
I want candy!
Marge:
But don't you wanna end world famine?
Bart:
I want candy!
Marge:
Or save the endangered Alaskan salmon?
"Lisa":
I want candy!
Marge:
Well, if you won't think of society's ills...
Homer, Bart and "Lisa":
I want candy!
Marge:
At least, think of our dentist bills!
Bart and "Lisa":
Gotta new dance and it goes like this,
And the name of the dance is the Peppermint Twist.
Yeah!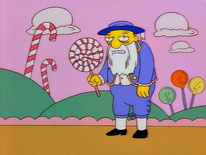 Lollipop, lollipop, oh, lolli-lollipop,
Lollipop.
(tries to pop his mouth but his teeth fall out) Ow.
Smithers:
Crack that whip!
Licorice whip!
I said, Whip it!
Licorice whip!
All:
We want candy!
We want candy!
CANDY!
Ad blocker interference detected!
Wikia is a free-to-use site that makes money from advertising. We have a modified experience for viewers using ad blockers

Wikia is not accessible if you've made further modifications. Remove the custom ad blocker rule(s) and the page will load as expected.