The Simpsons: Scene It? is a game in the Scene It? DVD game series, and is based on The Simpsons.
Game
Players can play the game with the board game or without. The game is for ages 13 and up, and recommends 2 to 8 players. Players have a selection of choices to play: All Play, My Play, Final Cut and Tiebreakers. It has over 5000 questions based on the show for each of the categories.
Categories
The categories are each of the following: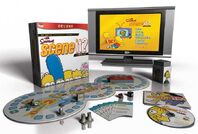 All Play: Everyone that is playing can answer it first. If they do, they move how many points the dice told them to.
My Play: This is only for the player who rolled My Play, and is nearly the same as All Play.
Final Cut: If a player is on the rings numbered 1, 2 and 3, the player does the special question in this category.
Tiebreakers: If a player has drawn and another player has drawn with the other, the player chooses Tiebreakers from the DVD menu, and a various question will appear for the tied players to answer.