The Pacifier is the fifth Simpsons short and originally aired on The Tracey Ullman Show on June 21, 1987.
Plot
Bart and Lisa are playing in the yard with Maggie. Bart and Lisa take offense at Maggie sucking on her pacifier and Bart pulls Maggie's pacifier out of her mouth. Threatening Maggie that she has to grow up, Maggie walks through the house to her bedroom. She opens the drawer and finds hundreds more pacifiers, removes one, and walks away sucking upon it. Maggie walks into the living room, and Bart and Lisa once again object. Bart pulls Maggie's pacifier out of her mouth again and they play catch with it. Maggie bites Bart's leg and catches the pacifier in her mouth. Lisa then attempts to distract Maggie from sucking on her pacifier. Bart removes it and Lisa covers it with hot sauce. It turns out, Maggie loves the hot sauce. Then, Bart and Lisa don't care that Maggie sucks on her pacifier and say they're mature. Maggie offers them each a pacifier, and to their surprise they enjoy the effects. Maggie later removes them, even though this is not seen.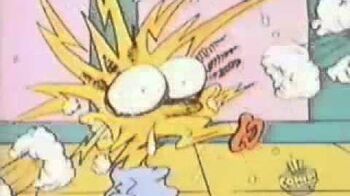 Ad blocker interference detected!
Wikia is a free-to-use site that makes money from advertising. We have a modified experience for viewers using ad blockers

Wikia is not accessible if you've made further modifications. Remove the custom ad blocker rule(s) and the page will load as expected.