The Nahasapeemapetilon Octuplets' Octuplets are the children of The Nahasapeemapetilon Octuplets.
History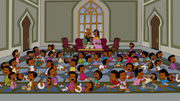 Marge visited Apu and Manjula at their house. When she left, Manjula asked her to be careful how she closed the door, and Marge closed it very quietly. This didn't help though, as the Octuplets looked blank faced for a second, and then all started crying.[1]
Trivia
Only 53 children are seen (42 in one scene). If all of the octuplets had octuplets, there should be 64. This is either a goof or not all of them are there.
Appearances
Citations