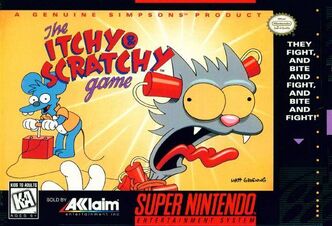 The Itchy & Scratchy Game is a platform video game that was released for Mega Drive (Genesis), the Super Nintendo Entertainment System (SNES), and Sega Game Gear in 1995. It stars the mouse and cat Itchy and Scratchy from the American animated television series The Simpsons, and features the classic gory violence from the show. The main character is Itchy, who has to fight Scratchy. Reception of the game has been generally negative.
Trivia
This is the first Simpsons video game to focus on Itchy and Scratchy characters.
Ad blocker interference detected!
Wikia is a free-to-use site that makes money from advertising. We have a modified experience for viewers using ad blockers

Wikia is not accessible if you've made further modifications. Remove the custom ad blocker rule(s) and the page will load as expected.