The Homer
18,003 articles being
edited here
Talk

0
"The Homer" (also known as "The Car Built for Homer") was a car designed by Homer Simpson when his half-brother, Herb, gave Homer a job at Powell Motors. It is a parody/exaggeration of the Edsel, a similarly disastrous automobile designed by Ford Motor Company.
Thanks to Homer's dislike of the cars Herb's company was creating, Herb decided his company needed a new car that would appeal to the "average" American. Unfortunately, Homer's views on an ideal car was much different than that of an average American. Despite the many objections of Herb's employees, Herb encouraged Homer to follow his instincts in creating a car that American consumers would want to buy. Homer took charge of the project after Herb encouraged him to obey his gut when it came to what kind of car he wanted. Unfortunately, Homer's creation was such a monstrously strange car, cost so much to develop, and had such a high price tag (Approximately $82,000), that Herb's car company went out of business shortly after, with its building purchased by Komatsu Motors. When The Simpsons were driving back to Springfield, Bart told a dejected Homer he thought it was pretty cool.
Features
Edit
The Homer has two bubble domes; one in the front, while the one in the back is for quarreling kids, and comes with optional restraints and muzzles.
According to Homer, the engine sound causes people to think "the world's coming to an end."
There are three horns, as Homer claims that "you can never find a horn when you're mad." The three horns play the song "La Cucaracha."
The car also features gigantic cupholders, which actually became a feature on many cars in the 1990s onward.
The car has various outdated features such as bubble domes, shag carpeting, and tailfins. It also has a metal bowler as a hood ornament.
Non-Canon Appearances
Edit
In the video game The Simpsons Road Rage, The Homer is unlocked after all 10 missions are completed successfully. The vehicle is driven by Homer, but is harder to handle than his Pink Sedan, and is more of a trophy than an actually useful car like the Bandit and Hover Car. When selected before it is unlocked, Herb will be heard saying "And the sticker price for this car... is $82,000?!" along with an audible crowd gasp as the car is displayed.
In The Simpsons: Hit and Run, "The Homer" can be acquired by Apu from Homer at the Hospital parking lot in Level 5 for 500 coins. Required for completion of the "Eight is Too Much" mission. The horn plays "La Cucaracha."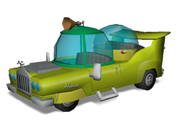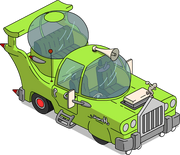 Behind the Laughter
Edit
A toy was made of "The Homer", and the car was an unlockable in the videogames The Simpsons Road Rage and The Simpsons: Hit and Run.
A real-life version of the car was made in June 2013.
In 2014 Hot Wheels released a diecast version of the car.
Appearances
Edit