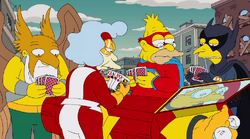 The Dependables is a team of elderly octogenarian superheroes.
History
After Fruit Bat Man was captured by The Abominable Dr. Lenny, Nick Fury put together a team of octogenarian superheroes consisting  of: Fruit Bat Man, The Rambler, Early Bird, Hot Flash and Iron Lung. Together, they played cards on top of Iron Lung.
Members
Behind the Laughter
The Dependables are a parody of The Expendables.
Appearances
Ad blocker interference detected!
Wikia is a free-to-use site that makes money from advertising. We have a modified experience for viewers using ad blockers

Wikia is not accessible if you've made further modifications. Remove the custom ad blocker rule(s) and the page will load as expected.