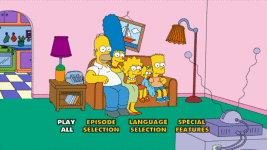 "The Complete Third Season" was released on August 26, 2003 in North America, on October 6, 2003 in the United Kingdom and Ireland, and on October 22, 2003 in Australia. It contains all 24 episodes from Season 3 and additional bonus material.
The packaging theme is based on the Tipping Couch couch gag. The spine features Homer and Marge on the outer casing, and Maggie and Bart on the inner casing.
This was the first box set to have a "Play All" feature, which allows the viewer to watch all episodes on one disc sequentially without having to browse through menus to get to one episode at a time.
Unlike the first two season DVD main menus, the main menus for this season DVD features the Simpsons sitting on their couch, but every other menu has all yellow letters/characters with a completely black background. Each preceding selection for each of those menus are below each other, except for the general selections ("back to main menu", "back to episode menu", "resume episode", etc.), which are in a horizontal line formation at the bottom of each menu.
Disc Features
Disc 1
Disc 2
Disc 3
Disc 4
Gallery
Special Features
Six Butterfinger commercial spots from 1992:
Interactive scene specific sketches that can be seen while playing any of the following episodes:
Pop-up trivia option in "Colonel Homer"
Macy's Thanksgiving Day Parade clip from 1991 featuring a balloon of Bart on a skateboard
Promo clip for "Colonel Homer" with some footage not seen in the episode
Simpsons Jukebox feature
Four foreign language clips from "Treehouse of Horror II":

Spanish
Québécois French
Czech
Polish

Storyboards edited by Matt Groening that can either be synced with the episode's audio or viewed as a gallery for the following episodes:
Easter Eggs
The following episodes contain a fifth audio track with an alternate single person commentary. It can be accessed by either entering "10" on the remote on the "Special Features" menu of each episode or by switching to audio track five with the DVD player's remote while playing the episode:
Audio outtakes that can be accessed from the main menu of disc three by entering "84763" (the price that appears on the cash register during the Season 2-mid Season 20 opening sequence of The Simpsons) and waiting for the menu to reload after each number. If that doesn't work, try hitting the "enter" button after each number (i.e. 8 "enter" 4 "enter" 7 "enter" 6 "enter" 3 "enter"):
Thirteen random drawings by the animators can be seen by entering 7, 4, 2 and pressing enter after each number on the remote in the "Special Features" menu of disc four.
Episode Cuts
"Homer Defined": In the original airing of this episode, Mr. Burns has a line in which he uses the word "butt", and Bart has a line using the word "ass". For later airings, these lines were re-recorded, so that Burns uses "ass" and Bart uses "butt". This DVD uses the altered version.