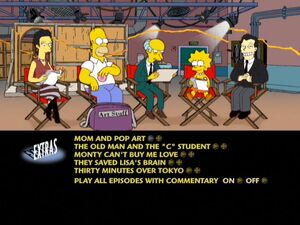 The Complete Tenth Season of The Simpsons was released for Region 1 on August 7, 2007, Region 2 on September 10, 2007, and Region 4 on September 26, 2007. The box set comes in two varieties – a limited edition Bart Simpson head-shaped box and a standard rectangular box with artwork prominently featuring Bart riding a cart to a movie studio. The spine features Rupert Murdoch from "Sunday, Cruddy Sunday" and the Squeaky-Voiced Teen. According to Matt Groening's introduction this is the last one to be shaped as a Simpsons head.
The set's theme is The Simpson family visiting the 20th Century Fox studio lot and Bart causes trouble with the guards.
Disc Features
Disc 1
Disc 2
Disc 3
Disc 4
Bonus features
Easter eggs
On the episode menu for some episodes, select the button on the TV monitor on the top to find a secret deleted scene. The episodes include:
Ad blocker interference detected!
Wikia is a free-to-use site that makes money from advertising. We have a modified experience for viewers using ad blockers

Wikia is not accessible if you've made further modifications. Remove the custom ad blocker rule(s) and the page will load as expected.