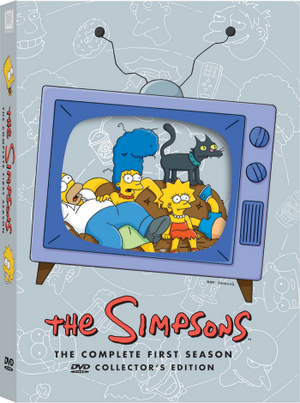 "The Complete First Season" was released on September 25, 2001 in North America, and September 24, 2001 in the United Kingdom and Ireland. It contains all 13 episodes from the first season, remastered in Dolby Digital 5.1. Although the video quality is generally of a high standard, it is from a broadcast tape and not an original film print, as the show was edited on video. For a list of boxsets, see List of The Simpsons boxsets.
The outer packaging is of the family sitting on the couch with Santa's Little Helper and Snowball II sitting upright with them (used a couple of times in Season 1), whereas the inner packaging and the discs feature the family spinning in a vortex. The spine features Bart and Lisa on the outer casing, and Homer, Marge and Maggie on the inner casing.
Disc Features
Disc 1
Disc 2
Disc 3
Bonus features
French
Italian
Spanish
Japanese
Portuguese
Easter eggs
Bart T-shirt controversy clip from ABC News (accessed by highlighting Bart's T-shirt in the "Extra Features" menu).
Still gallery of magazine covers printed during the 1989-1990 season (accessed by highlighting the comic book Bart is holding in the "Art of The Simpsons" menu).
Gallery
Rating G
Studio 20th Century Fox Home Entertainment
next
Edits
"Bart the General": The opening shots of the house to the open view is missing some of the opening credits. (The original credits remain intact on the Amazon and iTunes releases of this episode.)
"The Telltale Head": The most notable edit comes from this episode, which removed a part of Bart's speech to the mob about "taking the town's heritage for granted". (See the references of this episode for more information.)
Notes
In the Region 2 and Region 4 releases, the episode "Moaning Lisa" is on Disc 2 and the episodes "The Crepes of Wrath" and "Krusty Gets Busted" are on Disc 3. There is also no commentary on the "Some Enchanted Evening" deleted scenes.
The Region 2 box art has The Simpsons' logo written in yellow rather than the red of Region 1. The spine also features the whole bodies of Bart and Lisa rather than just their heads.
The episodes "There's No Disgrace Like Home" and "Krusty Gets Busted" feature the original 20th Century Fox Television logo when the episodes originally aired, while the others have the 1989 20th Television logo.
In Region 1 on the outside case, it just shows Lisa's and Bart's heads. But on Region 2, It has their whole bodies.
In Region 2, "Moaning Lisa" is on Discs 2 and 3.
Ad blocker interference detected!
Wikia is a free-to-use site that makes money from advertising. We have a modified experience for viewers using ad blockers

Wikia is not accessible if you've made further modifications. Remove the custom ad blocker rule(s) and the page will load as expected.