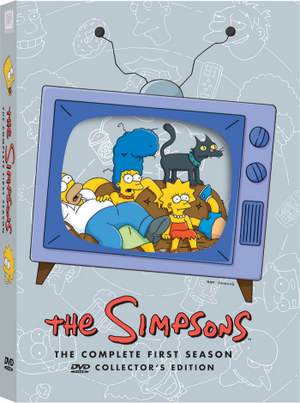 "The Complete First Season" was released on September 25, 2001 in North America, and September 24, 2001 in the United Kingdom and Ireland. It contains all 13 episodes from the first season, remastered in Dolby Digital 5.1. Although the video quality is generally of a high standard, it is from a broadcast tape and not an original film print, as the show was edited on video. For a list of boxsets, see List of The Simpsons boxsets.
The outer packaging is of the family sitting on the couch with Santa's Little Helper and Snowball II sitting upright with them (used a couple of times in Season 1), whereas the inner packaging and the discs feature the family spinning in a vortex. The spine features Bart and Lisa on the outer casing, and Homer, Marge and Maggie on the inner casing.
Disc Features
Disc 1
Disc 2
Disc 3
Bonus features
French
Italian
Spanish
Japanese
Portuguese
Easter eggs
Gallery
Rating G
Studio 20th Century Fox Home Entertainment
next
Edits
Notes
Ad blocker interference detected!
Wikia is a free-to-use site that makes money from advertising. We have a modified experience for viewers using ad blockers

Wikia is not accessible if you've made further modifications. Remove the custom ad blocker rule(s) and the page will load as expected.