The Collector is a bad guy and the enemy of Stretch Dude and Clobber Girl. He is the alter-ego of Comic Book Guy and likes to collect things, including people. He attempted (and failed) to marry Xena and kill Stretch Dude and Clobber Girl by encasing them in lucite.
Behind the Laughter
In some of the Mylar cases, one can see Matt Groening, The Fourth Doctor and several other sci-fi characters.
Appearances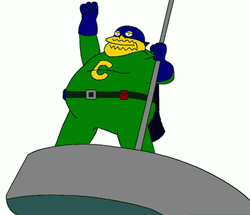 Ad blocker interference detected!
Wikia is a free-to-use site that makes money from advertising. We have a modified experience for viewers using ad blockers

Wikia is not accessible if you've made further modifications. Remove the custom ad blocker rule(s) and the page will load as expected.