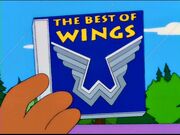 The Best of Wings is an album by Paul McCartney's band Wings.
History
After Gabriel helped the Simpson family, he said that he truly earned his Wings. Homer was happy because his theory about Gabriel was an angel was truth. Garbiel then explained that he meant his album, The Best of Wings.
Appearances
Ad blocker interference detected!
Wikia is a free-to-use site that makes money from advertising. We have a modified experience for viewers using ad blockers

Wikia is not accessible if you've made further modifications. Remove the custom ad blocker rule(s) and the page will load as expected.