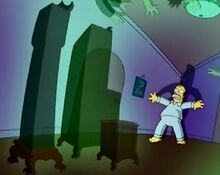 The Avenging Antiques are the spirits of the antiques that would have been bought by couples which had been broken up by Homer. The antiques, which include a chair, a grandfather clock and a wardrobe, all have a green glow which radiates from their original finish and patina. Their main mission is to frighten Homer into tabling his breakup business.
Appearances
Ad blocker interference detected!
Wikia is a free-to-use site that makes money from advertising. We have a modified experience for viewers using ad blockers

Wikia is not accessible if you've made further modifications. Remove the custom ad blocker rule(s) and the page will load as expected.