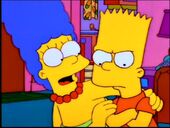 That Was Pretty Bad is one of the wraparound songs that the Simpsons sing to help introduce clips in the episode "All Singing, All Dancing". But in this case, this song acts as act breaker. The music was written by Alf Clausen and the lyrics by Steve O'Donnell.
Lyrics
Lisa:
That was pretty bad, Bart,
But it could have been worse:
You could have been carrying
A sequined purse.
I think you move like a young Baryshnikov.
Nobody move, or I'll blow your heads off!
All:
Ohh
Snake:
Nice one, my turn.
Ohh.
Ad blocker interference detected!
Wikia is a free-to-use site that makes money from advertising. We have a modified experience for viewers using ad blockers

Wikia is not accessible if you've made further modifications. Remove the custom ad blocker rule(s) and the page will load as expected.