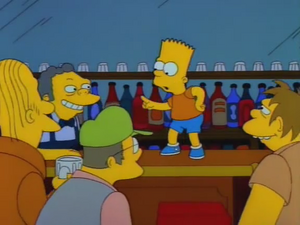 "Teddy Bears' Picnic" is a song consisting of a melody by American composer John Walter Bratton, written in 1907, and lyrics added by Irish songwriter Jimmy Kennedy in 1932. It remains popular as a children's song, having been recorded by numerous artists over the decades. Kennedy lived at Staplegrove Elm and is buried in Staplegrove Church, Taunton, Somerset, England. Local folklore has it that the small wooded area between the church and Staplegrove Scout Hut was the inspiration for his lyrics. It was sung by Bart Simpson in the episode Burns Verkaufen Der Kraftwerk at Moe's Tavern.
Lyrics
Bart: Every teddy bear, that's good;
Is sure of a treat today;
There's lots of marvelous things to eat
And wonderful games to play;
Beneath the trees, where nobody sees;
They'll hide and seek as long as they please;
Today's the day the teddy bears have their picnic!