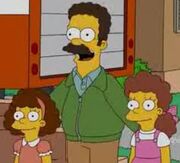 Ted Flanders is a member of the Flanders family.
History
He moved next door to the Simpson family after Sideshow Bob (disguised as Walt Warren) was sent to jail. He speaks just like Ned (e.g.: neighborino, and he also looks like him, too). He may be Portuguese. He currently lives in 740 Evergreen Terrace. He has two girls, named Connie and Bonnie, whose names rhyme, like Ned's sons.
Appearance
Ad blocker interference detected!
Wikia is a free-to-use site that makes money from advertising. We have a modified experience for viewers using ad blockers

Wikia is not accessible if you've made further modifications. Remove the custom ad blocker rule(s) and the page will load as expected.